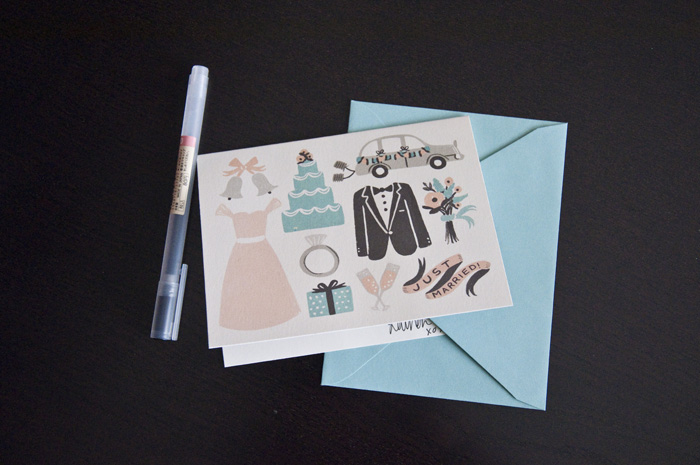 The wedding bliss continues: my dear friend and longest-running roommate got married on Saturday. I am still beaming with love and happiness for her and the lucky groom. It was such an honor to be a part of the ceremony and watch her make the biggest commitment of her adult life. She is one in a million friends.
Aren't weddings just the best? As much as I whine about the work associated with my own, I never tire of watching people in love commit to one another and dance the night away. This wedding was extra special–you could just feel the devotion in the thoughtful and eloquent vows, the cute homemade jam favors and the beautifully decorated old barn. A whole lotta love went into the day. And the union.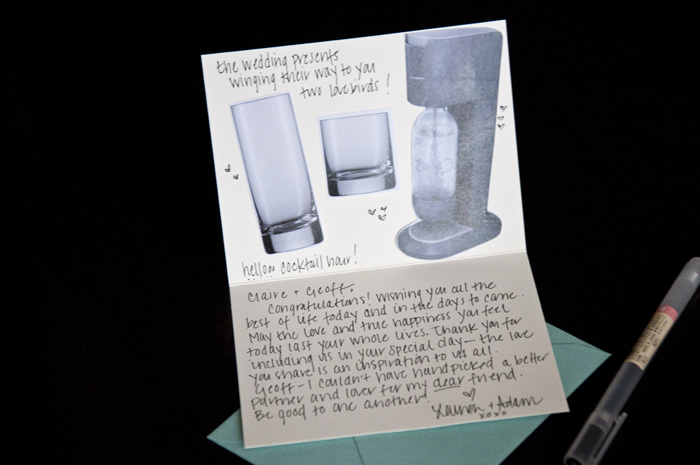 Because the wedding was held in upstate New York, hours away from their future home as a Mr. and Mrs., I opted to ship their gifts. I printed out a couple of little pictures as a "preview" of what was awaiting their return. I hope they're having the very best time on their honeymoon.
Claire + Geoff,
Congratulations! Wishing you all the best of life today and in the days to come. May the love and true happiness you feel today last your whole lives. Thank you for including us in your special day–the love you share is an inspiration to us all. Geoff, I couldn't have hand picked a better partner and lover for my dear friend. Be good to one another.
Love,
Lauren and Adam xoxo
P.S. I also wrote Claire her very own letter, because I couldn't not. I'll share that one later this week. x