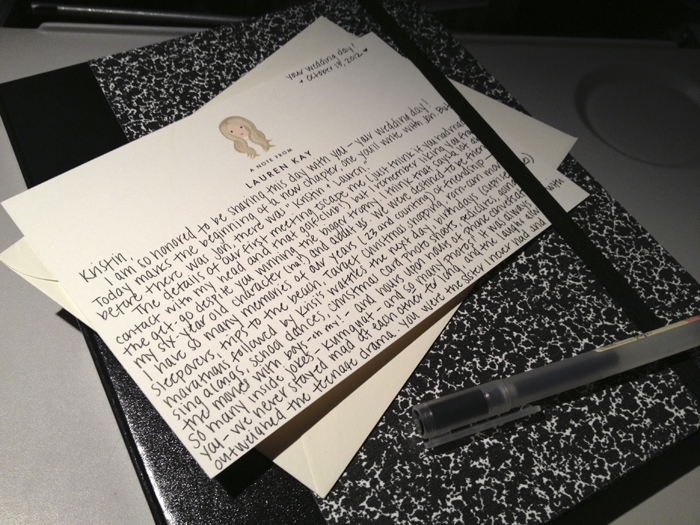 My oldest friend Kristin got married in October and I had the honor of being a bridesmaid. I wanted to write her a letter, call it a toast on paper, to commemorate the occasion. I know she will have lots of wedding gifts, photos and memories to mark the day. But for me, nothing beats a letter– fitting too, considering the crazy amount of note passing we did back in the day. Forgive me, my time management was suffering that week so I penned from my airline tray table (and photographed with my iPhone).
October 13, 2012
Dear Kristin,
I am so honored to be sharing this day with you–your wedding day. Today marks the beginning of a new chapter, one you'll write with Jon. But before there was Jon, there was "Kristin + Lauren."
The details of our first meeting escape me (just think if you had made contact with my head and that golf club!) but I remember liking you from the get-go despite you winning the bigger trophy. I think that says a lot about my six-year old character (ha!) and about us. We were destined to be friends. I have so many memories of our years (23 and counting) of friendship–sleepovers, trips to the beach, Target Christmas shopping, rom-com movie marathons followed by Krisi's waffles the next day, birthdays (surprise parties), sing-alongs, school dances, christmas card photo shoots, pedicures, going to the movies with boys -oh my!- and hours upon hours of phone conversations. So many inside jokes–kumquat– and so many photos! It was always easy with you–we never stayed mad at each other for long, and the laughs always outweighed the teenage drama. You were the sister I never had and my indisputable best friend. Frick and frack, peanut butter and jelly, salt and pepper… We made quite the pair.
And now as our smile lines and crows feet take their place, and spanx becomes an essential part of our evening wear, you're pairing off with another. While I'll contest I could never be replaced, I will happily concede, and let Jon step in. He's a good man Kristin. And he's so in love with you. I couldn't ask for anything more for my oldest friend.
Today I will smile and cry. Oh there will be tears. And I will beam with pride for my bonded bud and her new husband! I wish you all the happiness this life has to offer. May you live forever in love and may love live forever in you both.
And just so we're clear, I may have given up my spot as your other half, but I will never give you up friend. You're mine for always. I love you. Congratulations! And just in case I forget to tell you later, I had the best time today.
xoxo
Lo
custom stationery by Rifle Paper Co.