Did you know postage never expires? It's true. As long as you're licking and sticking unused or uncanceled U.S. Stamps, and their face values add up to proper postage for your letter, you're good to send. A first-class mail letter weighing one ounce or less costs forty-six cents. Keep in mind, these old stamps were a song. At three cents or six cents a pop, you'll have the envelope covered before you get to forty-six.
Don't you just love the look of old stamps on letters–the graphic quality of aged images is amazing! And the monochromatic look of say, multiple emerald stamps grouped together on a letter, swoon!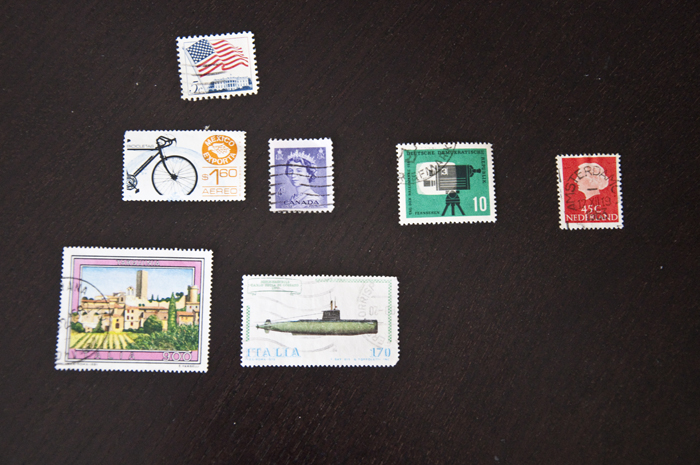 I picked up this pack of vintage stamps at Rifle Paper Co. in Winter Park, Florida. Sadly, these beauties have been canceled (you can see the squiggly lines and the circle date stamps inked on the corners) and are just for show. But old postage isn't all that hard to come by. Ebay has a great selection and my go to shop here in New York City ships internationally. Check and see if your city has a local stamp store–many do.
There are plenty of cute, old stamps that have little value to collectors. Ask or look for those. The higher the value (twenty-cent stamps are gold), the less stacking you'll have to do on the corner of your envelope. This is a great project for extra special correspondence, like a 75th birthday card or wedding invitations.
P.S. Stamp collecting can be addictive… you've been warned!