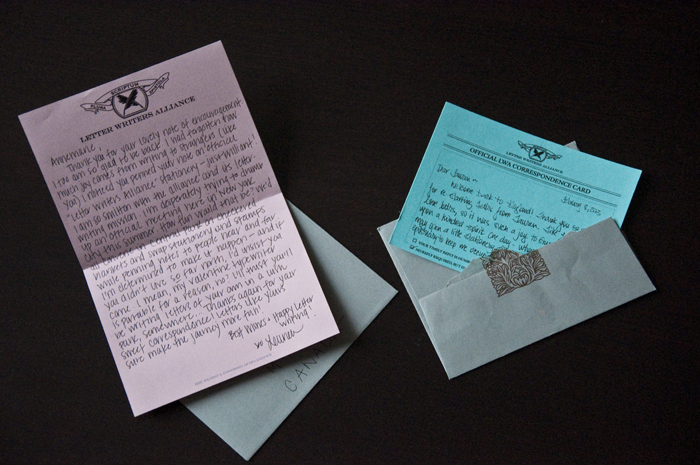 I wanted to give you guys lots of letters this week to make up for my lack of correspondence last week. Today I sent two notes to lovely strangers. Annemarie is a stationery-shop-wannabe-owner like me and fellow LWA member! And Ashanti hung up his lab coat in pursuit of calligraphy. I know I could be real friends with these two.
Annemarie,
Thank you for your lovely note of encouragement. I too am so glad to be back. I had forgotten how much joy comes from writing to strangers (like you). I noticed you penned your note on official "Letter Writers Alliance" stationery–just brilliant! I am so smitten with the alliance and its letter writing mission. I am desperately trying to drum up an official meeting here in New York City this summer. How fun would that be? We'd all convene in Central Park on checkered blankets and swap stationery and stamps while penning notes to people near and far. I'm determined to make it happen –and if you didnt live so far north, I'd insist you come. I mean my valentine typewriter is portable for a reason, no? I'll trust you'll be writing letters of your own in a lush park somewhere… Thanks again for your sweet correspondence. Letters like yours sure make the journey more fun!
Best Wishes + Happy Letter Writing,
Lauren
…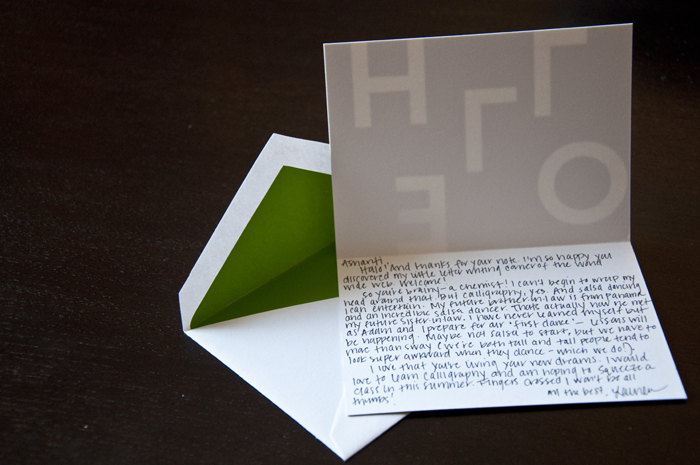 Ashantai,
Hello! And thanks for your note. I'm so happy you discovered my little letter-writing corner of the world wide web. Welcome!
So you're brainy–a chemist! I can't begin to wrap my head around that. But calligraphy, YES! And salsa dancing I can entertain. My future brother-in-law is from Panama and an incredible salsa dancer. That's actually how he met my future sister-in-law. I have never learned myself, but as Adam and I prepare for our "first dance" –lessons will be happening. Maybe not salsa to start, but we have to more than sway (we're both tall and tall people tend to look super awkward when they dance–which we do)!
I love that you're living your new dreams. I would love to learn calligraphy and am hoping to squeeze in a class this summer. Fingers crossed I won't be all thumbs!
All the best,
Lauren