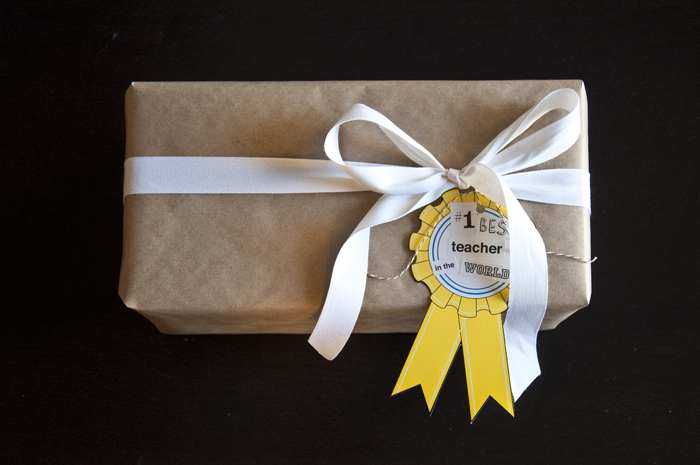 My sweet friend is a brilliant first-grade teacher. Last year she overcome loads of challenges with students and parents alike and managed to fund and develop a classroom library through Donors Choice. This year, she's returning to her very own elementary school, ready to shape more young minds. I am so proud of her accomplishments, her love of learning and her incredible patience. I wanted to send along a little something–just for her–to wish her luck on the first day.

Mrs. Hudson,
Congratulations on your new job! I am so happy for you love. Those kiddos don't know how lucky they are to have you as a teacher (never mind their parents!). I know you will make a huge impact on their tiny minds and set them up for future success. I hope "coming home" to your former elementary school inspires you and makes you love teaching even more. I just know it's going to be a great year.
As tempted as I was to wrap up liters of hand-sanditzer or the quintessential red apple, I picked out a little something else for your desk. I hope it arrives in once piece! I'll be thinking of you on Monday morning sweets!
Love + hugs,
Lauren
omg card from Paper Source; school dishes from Fishs Eddy

P.S. My future niece and nephew started pre-school so I had to send a little something their way too! Boy/girl twins are so fun to shop for!