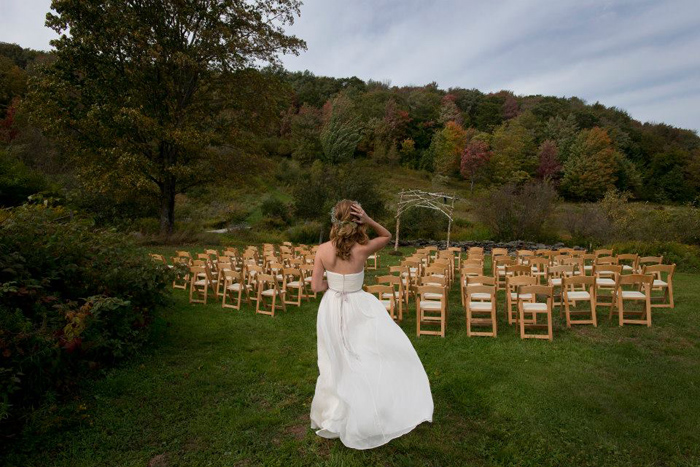 Ah, let's pick up where we left off, shall we?
As promised, I'm posting the letter I wrote to Claire on her wedding day. And because I hurriedly penned this pre-wedding (in the car no less), there is no photographic evidence of my correspondence. Instead, I give you the beautiful bride (and a link). The note is peppered with references spanning our thirteen year friendship. I maintain the real goodness of any letter its the stuff that comes straight from the heart.
Claire,
I know you were expecting sweet and sentimental from me on your wedding day , but I couldn't do it. I was tearing up on your couple card for goodness sake. And I thought this one was so apropos for the only person I've lived with longer than my parents. You saw and knew everything, ahem. And thankfully loved me anyway.
So many crazy twists of fate had to happen for a girl from Orlando to meet a girl from Buffalo and form a lifelong friendship. I had no idea, during that painful "favorite cereal" ice breaker in Boland, I would meet a best friend.
So many of my best memories include you Claire. Remember when I loaned you a dress for your date? We became fast friends after that. And you returned the favor by de-poofing my very big southern hair, which totally landed me my first college boyfriend. You helped me study for my biology tests and refused to spell smorgasbord for me when I wanted to put it in a news story (bless your heart). I remember riding in your Oldsmobile and listening to empty kegs roll around in "Grams" trunk. I have the best memories of grocery shopping in the middle of the night (Wegmans!) and attempting new and old recipes in our tiny kitchen–I still can't eat green bean casserole. I remember exploring a new city with you and finding ways to stretch our measly journalism salaries. You were amazing with a drill and nothing was better than a clove out the kitchen window on a Friday night. I loved being in the right place at the right time and scoring tickets to Kenny Chesney. I did not love the walk home from the Dixie Chicks Concert (remember the projectile vomiter?). But I always cherished our nonsense time most of all–like watching All My Children re-runs and drinking red wine until our teeth turned purple (which was one glass for you).
We couldn't be more different, yet we just fit. Through boyfriends and breakups, international moves and loss we've been a team. And now I have to give you up, life partner. Luckily, you've picked a good partner. Geoff loves you so much, and you two make the best team. I wish you a lifetime of love and happiness, friendship, honesty and respect. I am so happy for you and love you so much friend.
xoxo Lauren