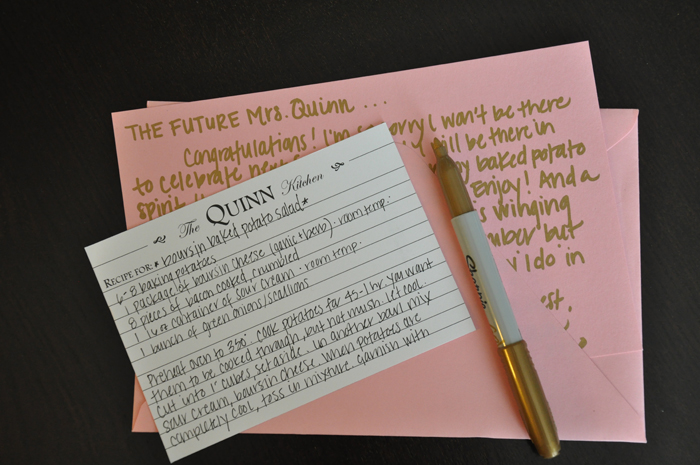 I wrote loads of letters while I was 'away' so I thought I'd catch you up on a couple of highlights. In this case, the only potato salad recipe you'll ever need. With a forecast like this, bbq season must be around the corner. Happy weekend friends!
One of my college roommates recently tied the knot. I was invited to his future-wife's bridal shower, but was unable to attend. As such, I sent her well wishes and my favorite potato salad recipe (look Mom, no mayo).
The Future Mrs. Quinn…
Congratulations! I am so sorry I won't be there to celebrate next Saturday, but I will be there in spirit. I've enclosed my recipe for my baked potato salad. It's always a hit at any BBQ. Enjoy! And a little something from Crate and Barrel is winging its way to you. We'll miss you in November but look forward to seeing you and Greg say I do in December!
All the best,
Lauren xoxo
…
Boursin Baked Potato Salad
6-8 baking potatoes
1 package of garlic and herb Boursin cheese (at room temperature)
8 pieces of bacon cooked, crumbled
16 oz of sour cream (at room temperature)
1 bunch of scallions, chopped
salt and pepper to taste
oil
Preheat the over to 350 degrees. Rub potatoes with oil, prick with a fork. Cook potatoes 45 minutes to 1 hour. You want them to be cooked through, but not mushy. Let cool. Cut into 1 inch cubes, set aside. In another bowl mix sour cream and Boursin cheese. Toss potatoes in creamy mixture and garnish with crumbled bacon and scallions. Salt and pepper to taste. Serve immediately or refrigerate overnight (bring back to room temperature before serving).
I dare you not to eat it all!