One day! Friends, Valentine's Day is just one sleep away! I can hardly contain my excitement.
If you're coming up short on gift ideas, don't fret. I've collected a few items that are on my wish list (cough, oh Adam!). And if you've missed your overnight-shipping window, don't despair. In our modern age of texts and tweets, a handwritten note is a rare treat. I guarantee your love will be "chuffed to bits" with a simple note of your affection…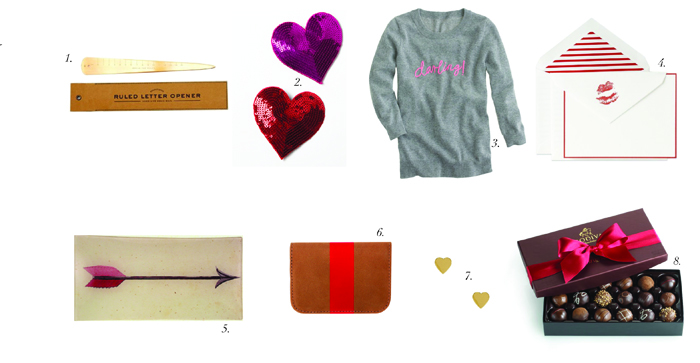 1. Ruled Letter Opener; 2. ban.do heart (I already own two, swoon!); 3. Hugo Guinness darling sweater; 4. kate spade sealed with a kiss cards; 5. John Derian Arrow; 6. Clare Vivier card case; 7. kate spade earrings (this was my valentine last year); 8. Godiva Truffles
If you go the love letter route, Crane & Co. posted some helpful tips to penning the perfect note.
P.S. I use these hearts for my quick love-notes.
One sleep!