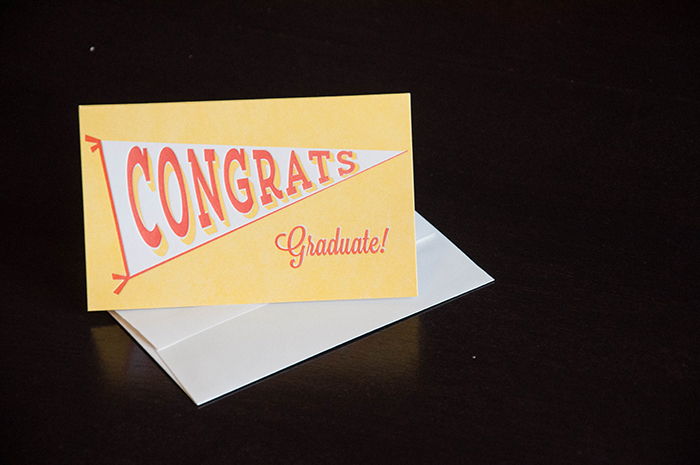 School's out for the summer! This week marks the last days of class for most New York City kids. I must admit, I'm a little envious of the months that lie ahead for these lucky ducks: popsicles, bike rides, beach trips, and rainy-day movies. And then there are the graduates, the accomplished students who are about to embark upon a new chapter in their lives. Ahh, youth!
I still remember all the cards and notes I received for my graduation. I kept them, every last one—nerd alert! One of my favorite things about those sweet sentiments was the totally identifiable handwriting, from my high school bestie's bubble letters to our neighbor's enviable cursive. Each note was so original in thought and hand. I love the way you can almost see someone on the page through their distinctive scrawl.
Not surprisingly, one of my favorite gifts for graduates is a hand written letter with a few words of unsolicited advice. And of course a little spending money for the adventure ahead. It's unlikely they will heed your guidance (study hard! don't drink too much!) but you've put it out there, done your part. And in a scribble that's all your own. We recently sent the above sentiments to Adam's cousin Mitchell who's headed to college (can we come visit?!).
For me, the key to legible notes is all in the pen. If it's one of those bank freebies, I'm doomed. I look for pens that sit nicely in my hand and roll smoothly along the paper's surface. A quick handwriting lesson (i.e. some unsolicited advice): don't write with your fingers—let them be a guide but not the muscle behind your letters. Your forearm and shoulders should move ever so slightly as you write giving you an easy cadence. And don't squeeze the pen! It helps if you sit up straight too. Am I sounding like your mother or second-grade cursive teacher yet?
Good news! Help is on the way for all you chicken scratchers! Sheaffer is giving away a super-chic pen (it's been dubbed the Spanx of handwriting by The Gracious Girl) to one of you lucky readers! Oooohhhh, ahhhhhh.
To enter, leave a comment below, like Letters From Lauren on Facebook, or follow me on Twitter or Instagram. You have until Sunday, June 29 at midnight. A winner will be announced on Monday so be sure to check back then too!
And in the meantime, catch up on more #wisdomforgrads with these fab blogger pal's posts:
Crane
The Gracious Girl
Sam Henderson
Meredith Heron
P.S. I got a big kick out of these tips of what *not* to say to a graduate!